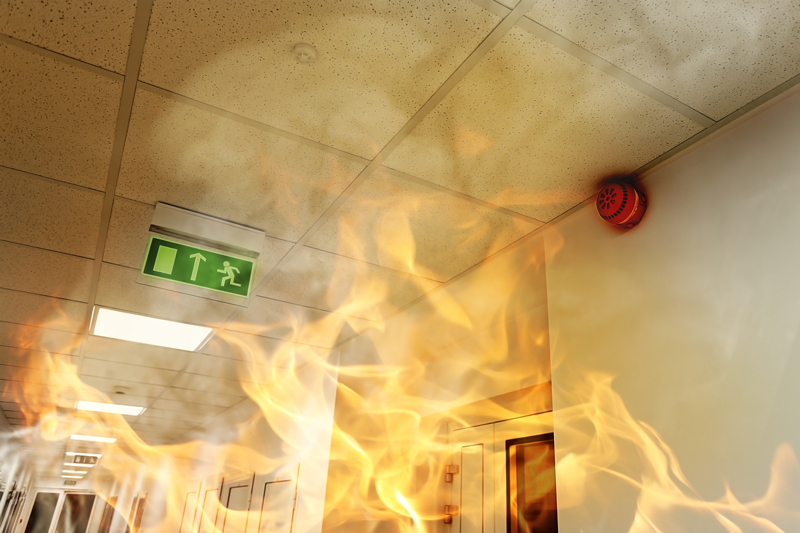 Fire Stopping
Fire stopping is critical to maintaining your building's fire compartmentation as part of your overall passive fire protection system.
Where utilities or other services are forced to breach a fire compartment, the compartment's integrity must be maintained or restored where breached. This is achieved by repairing holes, defects or damage with suitably rated fire-resistant materials to re-seal the compartments.
Likewise, where damage is identified through a compartmentation survey, repairs must be carried out to reinstate the integrity of the compartment using appropriately rated materials.
A 'permit to work' system for all contractors operating in and around fire compartments would be an ideal solution to ensure your fire safety rating is retained during works. However, until this is introduced and made mandatory, it should be expected that damage to your fire compartment is inevitable, as buildings are undergoing continual modifications with the installation of new services and renovations by inexperienced contractors.
How to maintain your fire stopping standards
Areas within your building will be designed to resist fire for a specific period. To maintain this standard, we recommend regular inspections of your fire compartment. This overcomes the issue of less-aware contractors breaching the fire compartment and rendering it non-compliant. Learn more about fire compartmentation and surveys here.
When you need fire stopping
There are many reasons to undertake fire stopping works. The two most common are:
The installation of new services or structures, such as ductwork, cabling, conduit, pipework, roof joists, purlins etc. which breach the fire compartment, or
Following a survey of your fire compartment where breaches have been identified.
Remedial works which preserve the fire compartment rating
Simply filling a gap with generic fire retardant materials is insufficient to restore the fire compartment rating. The materials chosen for a repair must adhere to the original building design and specifications.
To achieve compliance, you must:
Choose a competent person to install the fire-stopping materials
Ensure that suitable fire-rated materials are used.
We further recommend:
Repairs are confirmed via photographic or video evidence, as they are often in hard to reach and see areas.
Accredited fire stopping products
Our team choose Quelfire products to use in fire stopping works. Quelfire products are tested to current standards including; BS EN1366-3: 2009 and BS476: Part 20: 1987. Several products are also CE Marked.
The specific products employed in fire stopping works and their technical specifications can be downloaded from the links below:
Fire doors
Where doors breach a fire compartment, fire doors must be fitted. They are designed to resist the spread of fire and toxic gases to meet the requirements of BS 476-22 and or BS EN 1634-1.
Fire doors must be regularly inspected to ensure they are still fit for purpose and fulfil your fire risk assessment requirements.
Your legal obligations in relation to fire door inspections will depend on a number of factors:
The size of the property
The type of building
The occupancy rate
New installations require a thorough inspection, to ensure they have been fitted correctly and their performance meets the requirements as set out in the building compartmentation plan.
Routine maintenance and fire door checks should be carried out at regular intervals . This ensures the doors fitted in your building will perform as expected in the event of a fire. Routine wear and tear, especially in high traffic areas, can lead to damage to the door itself, or its fitting – both of which are crucial for performance in the event of a fire.
How we can help
Talk to our team on 02086617888 about:
Compliant compartment remedial works
Fire door surveys
Get your Free Copy of
A buildings manager's guide to fire compartmentation
What you need to know about your legal obligations and how to preserve the integrity of this crucial life safety system