Grease Extract Ventilation Cleaning
Building regulations require that commercial kitchens have suitable extraction to reduce heat and remove smells. Eliminating the risk of fire is also of paramount importance. The system itself will comprise a canopy and a fan, required for the extraction of air and particles and ductwork that leads to an external vent.
Extracting grease from the kitchen
The canopy will be positioned directly above the cooking area and will include a series of filters to capture grease particles. In reality, much of the grease will be extracted with the steam from cooking, passing through the first filters. These grease particles travel through the ductwork and adhere to the internal surfaces. Over time, grease will accumulate, presenting a significant fire hazard.
More dangers from grease accumulation
Apart from the fire risk, the accumulation of grease in the kitchen extract system reduces ventilation efficiency by restricting the movement of extracted air, resulting in overheating, excessive humidity, possible failure to remove noxious fumes from gas-burning appliances, and a continuing source of unwanted odours which can permeate the rest of the building. Uncleaned extract systems also provide the perfect environment for rodent infestation.
Your whole building is at risk
Grease extract ductwork often stretches through the entire length of a building to reach a roof-level exhaust, so uncleaned ductwork can put not only the kitchen occupants at risk from fire, but also the whole premises.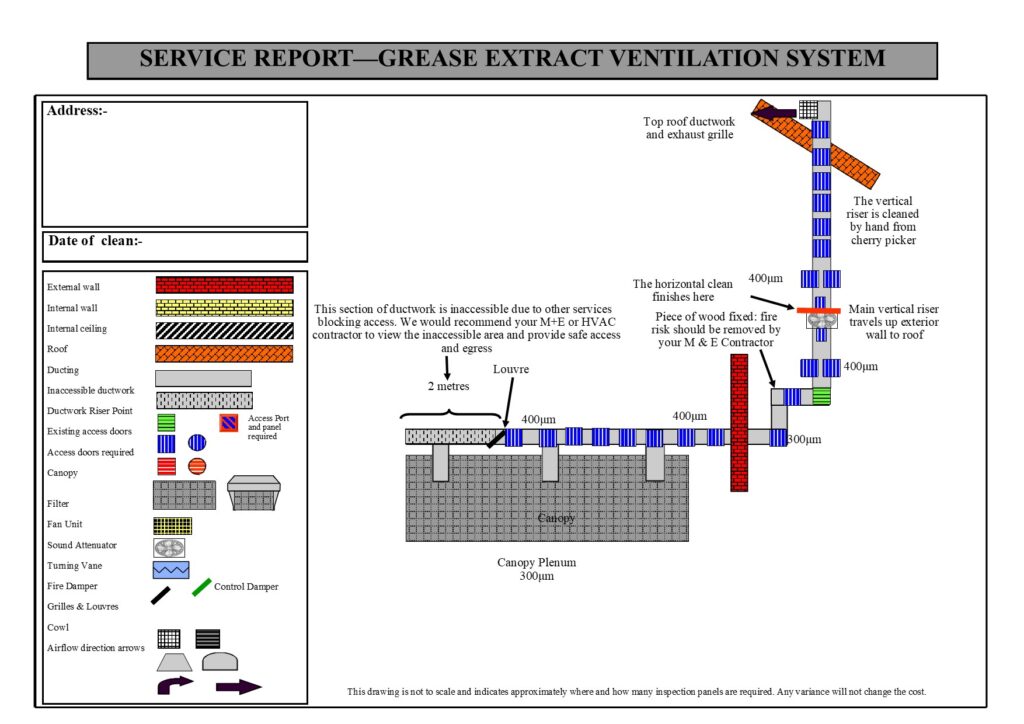 How we can help – grease extract and canopy cleaning
Grease accumulates in areas that you can see and those you cannot. Our team will thoroughly clean your entire canopy, changing filters where required and cleansing your extraction system through to the exterior ventilation.
We can install all necessary access panels, including fire rated panels where required.
Our methodology and reporting are in accordance with rigorous industry standards TR19® Grease Specification for Fire Risk Management of Grease Accumulation within Kitchen Extraction Systems, and Fire Protection Association (FPA) RC44 recommendations for fire risk assessment of catering extract ventilation.
Specialist testing for solid fuel appliances such as Robata and Josper grill extracts
Robata and commercial charcoal grills require a specialist type of ventilation designed to not just remove condensation and smells, but to prevent or reduce the level of hazardous substances such as dust, fumes and contaminants.
The rigorous health and safety rules around the use of these types of grill and the necessity for specialist extraction means the system requires additional testing. Learn more about Local Exhaust Ventilation (LEV) Testing here.
Fire safety cleanliness certificate
We provide an insurance industry-approved Fire Safety Cleanliness Certificate and detailed post-clean report on completion of the work. As evidence of grease extract ductwork cleaning, this certificate can be shown to insurers and Fire and Rescue Service inspectors.
Your legal obligations
The Workplace (Health, Safety and Welfare) Regulations 1992 and the Regulatory Reform (Fire Safety) Order 2005 requires the grease extract ventilation system is included in the fire risk assessment and action taken to eliminate any potential risk to building occupants from potentially fire-hazardous grease deposits in the ducting.

RC68 – Recommendations for fire safety in catering establishments issued by RISCAuthority and Fire Protection Association is an excellent tool and provides free additional guidance to assist.
Your next steps
Call our team on 020 8661 7888 to request a quotation for grease extract ventilation cleaning.